Medication Supported Recovery-A Pathway of Recovery Training
4 hour training workshop co-produced and presented by ASAP-PWI (Ruth Riddick, CARC-RCP/f) and ROCovery Fitness (Lisa Nichols, CRPA) from material originally developed by DYSO (Dona Pagan, CARC). Visit the trainers at the ASAP-NYCB Trainer Registry directory.
This MSR training workshop substitutes for expiring 3-hour/2.5-hour online MAT course, "Supporting Recovery with Medications for Addiction Treatment (MAT)."  PLEASE NOTE:  Approval for the MAT training will expire on December 31, 2022.  Completion certificates for the MAT training dated January 1, 2023 or later will not be accepted for CARC or CRPA certification or renewal.
Recorded live via Zoom on August 26, 2022, with the participation of peer recovery professionals who have generously given their permission to appear in this public webinar. Approved as fulfilling the MSR requirements of initial CARC and CRPA certifications, and for CRPA-Provisional. Approved for CRPA renewal where required.
Welcome to Medication Supported Recovery; A Pathway of Recovery (MSR), a complimentary 4-hour webinar training meeting the education requirements for foundational and renewal peer recovery certification (CRPA and CARC). We hope you enjoy it and find it useful as you expand your professional knowledge, skills and abilities.
This free webinar training was made possible through the generous sponsorship of the co-presenting organizations, ROCovery Fitness of Rochester and Alcoholism & Substance Abuse Providers of NYS (ASAP) under the ASAP-Peer Workforce Initiative banner, which have underwritten all expenses associated with this production.
The shared purpose of the sponsors is to bring an unambiguously non-clinical recovery-focused perspective to Medication Supported Recovery as a valuable pathway of recovery. It is intended to replace previously approved, but heavily clinical, webinars also offered free to the community.
The training was developed by three experienced trainers, all members of the ASAP-NYCB Trainer Registry.
To participate in this webinar, you will need to access the worksheets utilized in the video. Be prepared to note the web address for the relevant worksheet when it appears in the video and navigate to that page in a new browser tab. There are 4 external worksheets in all - two in each part of the video. You will need all of your completed worksheets for your credits submission.
For instructions on how to apply for your completion certificate, see https://tinyurl.com/MSR-cert-instructions-2022.
For further information, please email Ruth Riddick, ASAP-PWI Administrator, at rriddick@asapnys.org.
For other approved Medication Supported Recovery trainings, including a selection of live trainer-led opportunities, please click here MSR trainings.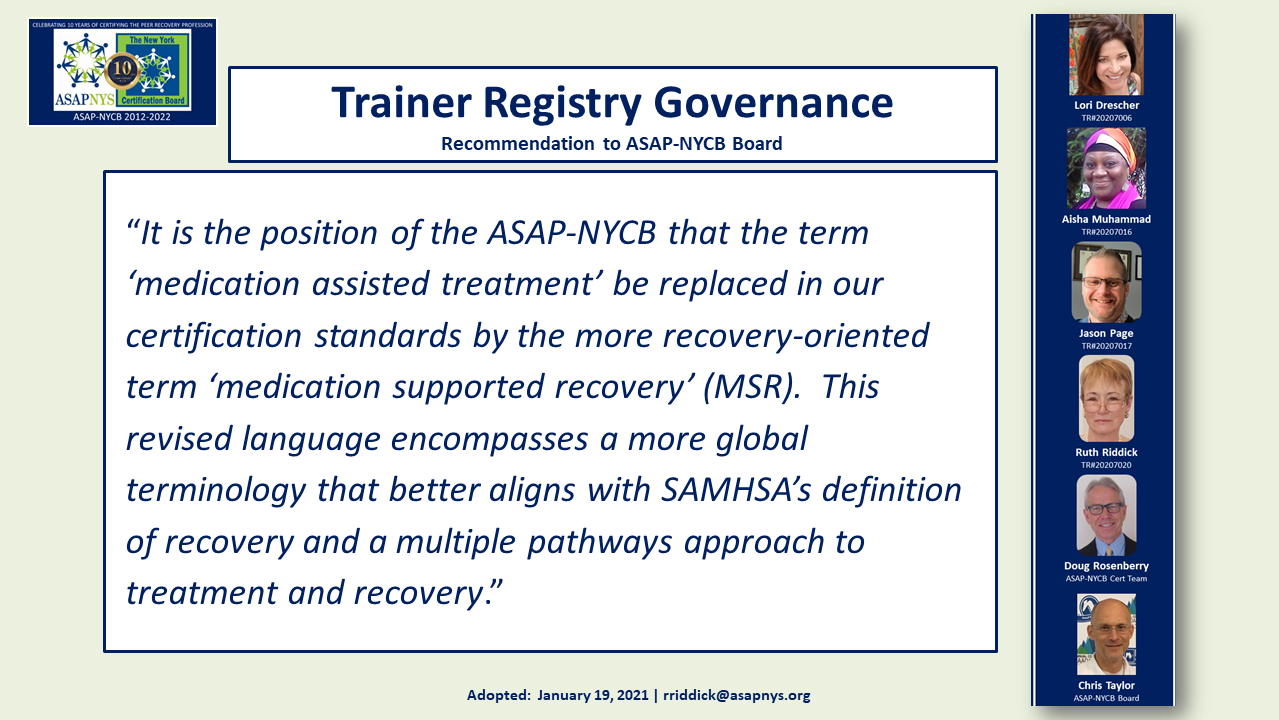 ***
For details of foundational training requirements and approved opportunities,, see https://www.asapnys.org/nycb-approved-training/
For instructions on applying for certification, see https://www.asapnys.org/ny-certification-board/
For details of the ASAP-NYCB Certification Renewal Program, see https://www.asapnys.org/renewal-program/.