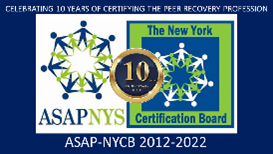 Approved Foundational Training for CARC & CRPA Initial Certifications | 46 hours basic
Contact: Ruth Riddick, Program Manager, ASAP-NYCB Trainer Registry & Training Approval

rriddick@asapnys.org
Find trainings at

https://for-ny.org/upcoming-trainings/

 Or email individual trainers (click on their email addresses).
---
(yes) = complete 46 hours in one course or two (confirm w/trainer)
If two, separate registrations may be required.  Or, may include additional training hours and content, depending on course design


RCA

= 30 hours only; add an approved 16 hours peer ethics course

Ethics

=16 hours only; add an approved 30 hours foundational training
If your trainer does not appear on this list, the training has not been approved for certification.
To avoid later disappointment, confirm that the training is approved before registering.
Visit the ASAP-NYCB Trainer Registry:  https://www.asapnys.org/asap-nycb-trainer-directory/ 
NOTE:  All training expires SIX Years after completion.
Please check that the date on your training certificate is within six years of the date on your application.
---