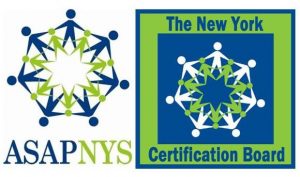 Peer Ethics & Medication Supported Recovery
Contact: Ruth Riddick, Program Manager, ASAP-NYCB Trainer Registry & Training Approval

rriddick@asapnys.org
Medication Supported Recovery


Renewal

or

initial CARC & CRPA |

one-time credit only per course
Computer Based
All online courses are self-directed.
3-hour |
https://ncadd-ra.org/events-trainings/
Live training.  Email Jennifer Faringer for details -
jfaringer@depaul.org
3-hour |
https://healtheknowledge.org/course/search.php?search=Medication+Assisted
Self-directed online learning course titled, "
Supporting Recovery with Medications for Addiction Treatment (MAT)
."
1.5 hour |
https://www.naadac.org/comprehensive-MAT-webinar
Includes a discussion of different types of medication-assisted treatments for alcohol, nicotine, and opioids
1 hour |
https://oasas.ny.gov/person-centered-addiction-treatment-services
Learning Thursdays overview of recent guidance regarding Medication-Assisted Treatment (MAT) and reduce access barriers.  See instructions here.
Trainer Led
In-person and online-contact trainers for further information
4 hours, NYC | James Ball, MHA of Dutchess, jball@mhadutchess.org
4 hours, NYC | Timothy Bax, In His Name Outreach, tim@ihno.org
7 hours, NYC | Walter Bell, Keep It Simple and Safe,

wbell@simpleandsafe.org


4 hours, NYS | Lila Boyer, H.O.P.E., LilaBoyer@HelpingOtherPeopleEveryday.com
4 hours, NYC | Great Escape Substance Abuse Training and Information, anthony@greatescapeinc.org
4 hours, NYS | Richard Buckman, Long Island Recovery Association,

admin@lirany.org


4 hours, NYS | Eliane Corwin, Corning College, corwin@corning-cc.edu
4 hours, NYS | Shannon Curry-Izzo, Best Self Behavioral Health, scurryizzo@bestselfwny.org
4 hours, NYS | Ashley Dickson, Tompkins Cortland Community College,  afd004@tompkinscortland.edu
4 hours, NYS | William Doyle, Seaway Valley Prevention Council, bdoyle@svpc.net


4 hours, NYS | Lori Drescher, Recovery Coach University,

lori@recoverycoachuniversity.com


4 hours, NYS | Amy Fahey, Catholic Charities of Herkimer County, afahey@ccherkimer.org
4 hours, NYS | Katherine Gates, FLACRA, katherine.gates@flacra.org
5 hours, NYS | Michelle Gonzalez, Christopher's Reason, michellegonzalez@resourcetraining.org


7 hours, NYC | Toby Haskins, Recovery Tech,

recoverytechnyc@gmail.com


4 hours, NYS | Lisa Hope, Prepared Training, greyrecovery@gmail.com
4 hours, NYS | Denis King, Champlain Valley Family Center, dking@cvfamilycenter.org
4 hours, NYS | Kyle LaFever, Friends of Recovery of Delaware and Ostego Counties, LLC, kyle@friendsofrecoverydo.org
4 hours, NYC | Aisha Muhammad, Tauheed Center for Human Excellence, aisha@tauheedenter.org


6 hours, NYC | Connie Pacheco, Recoveries R US,

cpacheco@recoveriesrus.org


4 hours, NYS | Diana Padilla, Opioid Response Network, diana.padilla@nyspi.columbia.edu


7 hours, NYC | Dona Pagan, DYSO,

donarp59@gmail.com


4 hours, NYC |In His Name Outreach, donna@ihno.org
4 hours, NYC | Sandra Rivers, Authentic Trainings, sandy@authentictrainings.com
7 hours, NYS | Tawana Rowser-Brown,

trbconnections@gmail.com




4 hours, NYS | Stacy Simbrom, Healthspan,

stacysimbrom@gmail.com


4 hours, NYC | Aja Stubbs, We R.I.S.E, werisenewyork@gmail.com
4 hours, NYC | Kristyn Victory, Christopher's Reason, kvictory@christophersreason.org
2 hours, NYC | Stephen White, Best Self Behavioral Health, swhite@bestselfwny.org
4 hours, NYS | Deborah Yuelles, Peer Training Institute-Alliance for Positive Change, deborah@alliance.nyc
---
See other lists:
Approved Foundational Training: https://www.asapnys.org/nycb-approved-training/
Approved Renewal Training: https://www.asapnys.org/renewal-program/